Are you looking to modernize your business operations and maximize the productive eventuality of your staff? Well, consider investing in a Pipe Profile Cutting Machine – might just be the machine you need to break through your product straits. Learn how having a CNC-controlled Pipe Profile Cutting Machine at your place can enable you to achieve presto and effective 3D slice/ beveling with top-quality results. 
When it comes to pipe profile cutting machines (PPCMs), there are numerous benefits that come with them. One of the main advantages is that all of the macros from the Pipe Profile Cutting Machine PPCM library are also available on the PC. This means that you can prepare your coming design on the PC while the machine is in use. Also, these machines are extremely effective, meaning that you can get your systems done hastily and with the lower hassle. 

Promotech CNC controlled Pipe Profile Cutting Machine allows a wide working range from compasses 50 to 650 mm and pipe lengths up to 6.000 mm or 12.000 mm (option) using oxy-energy or tube. Advanced design and top-quality factors enable fast and efficient cutting with top-quality results. The most important point and advantage is its stoner-friendly software which enables quick understanding and efficient use of this machine after a short training without any need to invest in expensive CAD/ CAM software. Our rearmost generation control system permits fast shape programming. Its Integrated library of macros allows for the parametric definition of typical pipe joints. The standard library includes typical macros. Other macros are available on request. Transfer of NC data files from CAD/ CAM Software to PPCM is available as an option.
The most important point and advantage of Pipe Profile Cutting Machine is its stoner-friendly software including a wide compass of standard macros representing the typical slice shapes. An integrated library of macros allows for the parametric description of typical pipe joints and fast shape programming on-point directly from the machines' control panel just after a short training. Off-line programming is also possible by means of devoted Pipe Profile Cutting Machine SIM PC software containing the same macros library. Pipe joints can be prepared even in the office to keep machines operating, adding process effectiveness and reducing time.
User-friendly software including a library of macros for the utmost typical slice shapes 

Automatic compensation of cutting speed depending on the material thickness, torch angle, and cutting direction for the best cutting quality

Heavy-duty rigid construction 

Well-proven in the utmost demanding surroundings 

Easy access to gas faucets 

Fume exhaust system thru spindle (option)

Additional torch to heat up the material (option)
MACHINES' SOFTWARE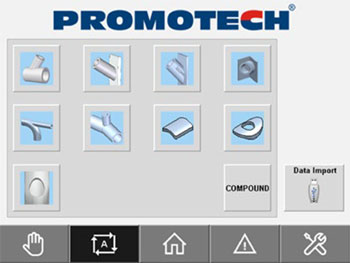 PPCM-650 software includes a wide compass of standard macros. The macros present the typical cutting shapes and are fluently programmable thanks to an intuitive menu with necessary pipe parameters.

On- line support

 

PPCM SIM PC/Off-line programming Thanks to the PPCM standard macros library you can work on your systems. Typical slice shapes Main features of PPCM SIM PC

All the macros from the PPCM library are also available on the PC 

Time effectiveness – when the PPCM machine is used for the slice, the coming design can be prepared on the PC in the meantime 

Easy transfer between PC and PPCM machine using a USB stick 

Stage-alone operation 

Simple and user-friendly software 

Lantek Flex 3D Tubes software for CAD/ CAM train transfer (option)
Import of CAD figures from external software and acceptance of colorful train types including Tekla, SAT, STEP, IFC, Excel 

Designing of tubes and joints using a set of standard shapes or construction of them from 2D outlines

Visualization of joints and arsonist path adaptation to optimize weld medication
Bus Nesting of multiple corridors.

Lantek automatic nesting system determines the most effective position of rudiments to be cut from pipes, therefore minimizing waste of material as well as easing managing the storehouse of pipes.
Options available upon guests' requests 
Oxy-energy slice (Propane) – Indispensable slice system that's available on request. 

Tube Cutting  – We can integrate the tube source preferred by the client.

Fume exhaust system – System ST5000N with the electric adaptation of dirty air position, combined with PPCM- 650 spindle provides clients with effective cloud junking of 2200- 2500 m3/h.